One of the best reasons to incorporate built-in bookshelves into any room of the home or office is that they free up valuable floor space, making them especially appealing for small rooms.
Built-in Bookshelves for Play Areas and Children's Rooms
Knee-hi built-in bookshelves are perfect for children's bedrooms or play areas since they are at the perfect level for children to use.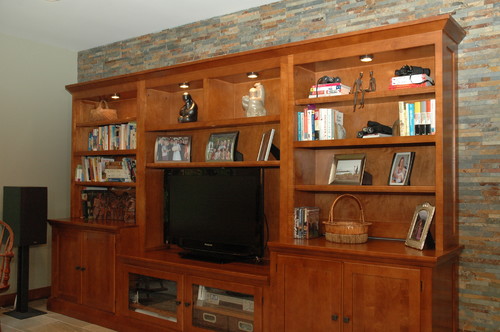 Built-in Bookshelves for Dens, Libraries, Family Rooms, and More
Whether or not you have a lot of room to work with, adding built-in bookshelves to your home is a great way to incorporate character and detailing. Select the trim and color of your bookshelves to blend with the existing or planned décor for the room for the best results. Position your built-ins so that you can create a cozy reading nook, craft table, computer area, or gaming alcove in between a pair of built-in bookshelves. Another option is to create a wraparound bench in front of a window, connecting a pair of bookshelves for a streamlined appearance.
Lighting for Built-in Bookshelves
Whether you have stand-alone or built-in bookshelves, adding accent lighting is a terrific way to create a unique element that turns them into focal points. Small puck light fixtures and LED strip lighting are just two of the many options you have.
Built-in Bookshelves and Functionality
While the name implies that your bookshelves are going to be used to store books, you can utilize them for other purposes including storage of games, CDs, DVDs, collectibles, and family photographs. Built-ins are great for creating an attractive contrast with the walls of the room.
Think Outside the Box
If the structure of your home is amenable to built-in bookshelves in out-of-the-ordinary locations, why not consider it? Add one or more to your hallway walls, foyer, or even to your staircase. Remember that your built-in shelves do not need to span the entire height or width of any area, giving you even greater flexibility with your design. Since most stand-alone bookshelves do not extend up to the ceiling, you may even get extra storage or display room by doing so with your built-in bookshelves.